This Bluehost review has been divided into following different parts. You can directly jump to any part of it to find the information useful to you :-
Bluehost's overall quality score        :     Bluehost review part 1
Should you go with Bluehost ?         :     Bluehost review part 2
A small introduction of Bluehost     :     Bluehost review part 3
Pros or advantages of Bluehost        :     Bluehost review part 4
Cons or disadvantages of Bluehost  :     Bluehost review part 5
Conclusion of the entire review        :     Bluehost review part 6
BLUEHOST'S OVERALL QUALITY  SCORE    

:

  7.4 / 10



PRICE                                                    :         7
RESOURCES & FEATURES            :         8
SPEED & UP-TIME                          :         7
SECURITY                                            :         8
CUSTOMER SUPPORT                    :         7
( Scores given above are out of a maximum possible score of 10 )
 Before you move ahead in this review, let me inform you that we have rated A2 HOSTING as the No. 1 web host.
To read our A2 hosting review, click on the following link :-

Should you go with Bluehost ?
YES. If, you want to host :-
A Small or medium sized website on a shared hosting plan
Multiple websites on 1 shared hosting plan at low cost
Medium to large sized websites on wordpress hosting plans
A large website within a limited budget
NO. If, you want to host :-
Before we move ahead in this Bluehost review, let's take a look at some crucial details about it.
This will tell us, why it is one of the most popular web hosts of the world.
 A SMALL INTRODUCTION OF BLUEHOST 
Founded in  –                       1996 , by Matt Heaton
Headquarters  –                   Provo, Utah, USA
Business Group  –               Endurance International Group (EIG)
Popularity  –                         Powering more than 2 million customers worldwide
Reputed for  –                       Cheap shared hosting and Powerful wordpress hosting plans
Above details must have given you a basic idea about reputation and popularity of Bluehost.
Now, in next part of this Bluehost review, we will directly start investigating different aspects of the web hosting provided by Bluehost.
BLUEHOST REVIEW –  AN HONEST ANALYSIS
First of all, we will take a look at positive sides of Bluehost's web hosting service. After this part, we will mention the downsides of Bluehost.
A)  PROS. OR ADVANTAGES OF BLUEHOST
1)  Cheap first year plans –
Bluehost offers very high discounts on its first year shared hosting plans.
Sometimes its shared hosting starts from as low as $2.95 / month.
Such discounts make it cheaper than other top web hosting companies like Inmotion , Dreamhost , Siteground , etc.
But, remember these discounted prices are only for first year. After that, prices go up.
2)  Unlimited Bandwidth, Disk space, and Domains –
Only smallest shared hosting plan has a cap of 1 domain and 50 GB disk space.
All other shared hosting plans offer unlimited bandwidth, disk storage, domain hosting and email addresses.
Unlimited features has many benefits for small and medium sized websites. But, they can not be provided beyond a practical limit.
Like other web hosts, Bluehost also clearly indicates it in its "fair usage policy" .
Here is a statement from the Official website of Bluehost, about boundaries of unlimited resources :-
Bluehost's offering of "unlimited" services is not intended to allow the actions of a single or few Subscribers to unfairly or adversely impact the experience of other Subscribers.

Our service is a shared hosting service, which means that multiple Subscriber web sites are hosted from the same server and share server resources.

Bluehost's service is designed to meet the typical needs of small business and home business website Subscribers.

It is NOT intended to support the sustained demand of large enterprises, internationally based businesses, or non-typical applications better suited to a dedicated server.
Still , resources provided by Bluehost's shared hosting plans are more than enough for most of the small and medium sized websites.
3)  24/7  Customer Support –
Bluehost provides 24/7 Customer support via phone, live chat, and email .
People often appreciates its support members for having good technical knowledge.
Attitude of support staff is also good and they try to remain very friendly and supportive.
Bluehost has a huge knowledge base where pre-written answers are stored for the most commonly asked questions. Anyone can search and find them.
It also provides extremely detailed documentations for its services and operates a YouTube channel to deliver video tutorials.
4)  Solid security arrangements –
Earlier Bluehost was criticized for compromising with security of the web hosting accounts hosted on its servers.
But now it seems that it has learned a lesson.
Now, it uses account isolation technology which isolates different web hosting accounts hosted on a server and provides them better security and performance.
Bluehost offers many tools which can secure websites from some of the most common risks.
For example, you can prevent spam with tools like Spam-Assassin, Spam Experts, and Spam Hammer.
Bluehost also supports CloudFlare, which helps to prevent sites from dangerous DDoS attacks.
DDoS attacks can bring a site down by sending very high amount of traffic from different sources.
Overall, Bluehost's security features and arrangements are very satisfactory.
5)  Room to grow big –   
Bluehost is a shared hosting specialist.
But, it also offers many VPS and dedicated server plans for larger websites.
It has 4 different VPS plans and they start from only $15/month.
Starting from $80/month, dedicated server plans of bluehost are also very cost efficient.
So, even when your website grows very big to millions of visitors per month, Bluehost will be able to handle it comfortably.
6)  CloudFlare integration – 
Cloud-flare is an advanced content delivery network, and it greatly improves the speed and overall performance of a website.
Cloud-flare also protects the website from hacking attempts and other security threats.
Bluehost provides basic Cloud-Flare features in its shared hosting plans, and it is highly beneficial for its customers.
If used well , it can also help in reducing the bandwidth and resource consumption of a website.
Any Bluehost customer can enable Cloud-flare instantly for free, without doing any changes in coding of the website.
7)  Money back guarantee –
Bluehost offers a 30-days money back guarantee.
It simply means that you will get a full refund if you canceled a web hosting account within first 30 days of signing up.
Bluehost also offers a prorated refund.
It means that even if you cancel your hosting account after 30 days of signing up, you will get a full refund for the remaining period of your hosting plan.
This shows Bluehost's confidence in its service quality.
Note :-  Check Bluehost's terms and conditions about refund of payments made through Paypal or other online payment services . Sometimes web hosting companies deny to provide a refund of such payments due to certain technical reasons. These rules keep changing  from time to time. So, to avoid any risk, take a look at them at the time of purchasing hosting plans.
8)  Top quality wordpress hosting – 
Over last few years, Bluehost has earned a good reputation for its feature rich and high performing managed wordpress hosting.
Sometimes, its wordpress plans are criticized for being over-priced.
But, if you can afford them, you will most probably have a very positive experience.
If you want wordpress hosting at cheaper prices, i confidently recommend Inmotion and Siteground.
You can read their following reviews   –
9)  Weebly as a website builder –
Weebly is one of the world's most famous website building software.
Bluehost offers its basic version with all web hosting plans, and Weebly makes it very simple to create a new and powerful website.
Bluehost customers can also upgrade to paid Weebly plans to get more features.
If you do not like to use Weebly, you can use the default WordPress website builder available with Bluehost.
10)  Cpanel –
Bluehost uses C-panel, which is the most popular and simple control panel in the web hosting industry.
It is really easy to use and offers fast access to different features like CloudFlare, Page Speed Grader, Google Apps and many other tools.
11)  Daily Backups –
Each web hosting account is backed up daily, weekly, and monthly.
This ensures that you will not loose your website's content in case of a security threat or some big technical error.
If your website's security gets compromised, it can be brought back to its previous state by restoring that site backup which was created by Bluehost.
12)  Freebies –
Bluehost offers a free domain for 1st year of hosting.
But i will suggest you to follow the advice of industry leaders and get your domain from a separate registrar.
It will keep you very safe in case of any dispute or leaving the web hosting company.
Domain name is a very crucial property for website owners , don't take any chance with it.
13)  Addons –
Here, Addons refer to different services which you can get by paying some more money to the web host.
Numerous addon services such as Google Apps for Work, site optimization services, dedicated IPs, Spam Experts, SiteLock, etc. are available with bluehost web hosting.
These addons can be very useful for some websites or blogs.
Bluehost is currently providing more than 50% discount on its shared hosting plans.
Click on the below mentioned link to get this discount from the official website of Bluehost .
In next part of this Bluehost review, we will take a look at negative sides of the web hosting provided by Bluehost.
B)  CONS. OR DISADVANTAGES OF BLUEHOST
1)  High renewal prices –
Bluehost has very low prices for first year of web hosting, due to huge discounts provided by it.
But, its renewal prices are clearly higher than its competitors like Inmotion and  A2 hosting.
Take a look at following chart of the renewal prices of Bluehost's three shared hosting plans      ( taken from Bluehost's official website ).
Prices mentioned in the chart are of 20 January 2017 :-

These prices of Bluehost are $2 – $5 higher on a monthly basis from other top web hosts like A2 hosting and Inmotion.
2) Paid website transfer – 
This is one such thing which almost every single Bluehost review mentions. 
Most of the web hosting companies transfer 1 existing website from other web host to its servers for free.
But, Bluehost charges a large amount of $149.99 for this service.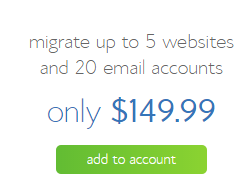 This is a big loss for owners of only 1 website, but it is a profit for owners of multiple websites who can transfer up to 5 websites for the same amount.
It is also a fact that most web hosts charge some money for transferring more than 1 website.
Still, charging such a huge amount for a website transfer is very unfair from Bluehost's side.
3) Not the fastest web host –

 
Bluehost does not provide very good speed to websites hosted on it.
It is not as fast as other top web hosts like A2 hosting, Siteground, Inmotion and Dreamhost.
We have monitored speed and uptime data of Bluehost for a period of more than 4 months. Following are the results that we got :-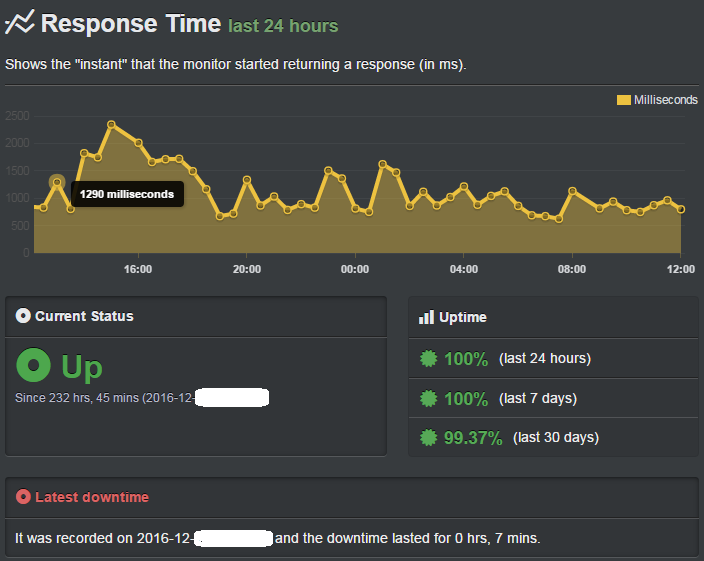 Speed and uptime data of our testing website hosted on Bluehost.
Average speed of Bluehost's server remains between 1000 and 1400 milliseconds for most of the time.
It is one of the most poor speeds recorded by us. Many web hosts had server speed of less than 500 milliseconds.
Uptime of Bluehost for last 4 months has remained around 99.80%, which is just average.
This uptime performance is lower than the industry standard of 99.90% . Many web hosts recorded uptime of more than 99.95%.
To get better loading speeds with Bluehost, you will have to use some caching plugin like WP Supercache, W3 Total cache etc. if you use wordpress hosting.
If you want faster speeds, i recommend you to go with its competitors like A2 hosting, Siteground, Inmotion and Dreamhost.
4) Complaints about customer support –
Customer support department of Bluehost is praised for technical skills of its members.
But, Bluehost is criticized for the strange and odd practice of handling multiple customers at one time, during chat.
Its support staff members do not hide it and clearly tell this to the customers.
High waiting period for contacting the support team also becomes a very negative experience.
A mega web host like Bluehost can and should improve its support quality for the sake of better customer experience.
5) Expensive wordpress hosting plans –

 
The WordPress hosting plans of Bluehost are very nice in terms of features, but they are also very expensive when compared to plans offered by many competitors.
For example, Bluehost's wordpress plans start at $20 / month ( after discount ).
Whereas, its major competitor Inmotion offers two wordpress hosting plans for less than $10 / month, which is less than half of the amount charged by Bluehost.
More important is the fact that Inmotion's hosting quality is often considered to be better than Bluehost's quality.
Though Bluehost claims to allow more than 100 million visits in above mentioned plan   ( it is practically impossible to do so ), this plan is not for customers having low budget.
If Budget is your problem, i will suggest you to take a look at Siteground and Inmotion wordpress hosting plans, as an alternative.
These are the web hosts which i have analyzed in a detailed way and i highly recommend them.
Till now, this Bluehost review has mentioned both positive and negative sides of Bluehost in a very detailed and unbiased way.
Let's move ahead to find the most important thing : The Conclusion.
 BLUEHOST REVIEW  :  CONCLUSION 
There are three types of conclusions that most Bluehost review present on the internet provide :-
It is the best and perfect web host.
It is a very poor web host which has survived just because of strong marketing.
Bluehost is a good web host having some negative sides.
I agree with the third type of conclusion.
Bluehost is not perfect, it is far from being perfect.
After analyzing most of the top web hosts like Siteground, Dreamhost, Inmotion, Hostgator, Ipage, Media Temple, A2 hosting etc.,  i can clearly say that no web host is perfect.
After doing in-depth analysis of most web hosting companies, i can say that most web hosts provide good service quality. But, it is also clear that they are miles away from being perfect.
Bluehost is not an exception. It has been created with a specific group of customers in mind, and it works well for that group.
It can not be called a good host for all, but it's surely an excellent web host for some.
Bluehost is not perfect, but it is a really good web host which can provide decent quality of hosting service at competitive prices.
I think so, because Bluehost provide following things :-
Feature rich shared hosting plans at competitive prices
Unlimited bandwidth and disk space
Good quality and 24/7 customer support
Advanced security features
Latest technology in form of cloudflare integration
Wide variety of plans from shared hosting to VPS and dedicated hosting
Top quality website builder like Weebly
Industry's favorite control panel in form of Cpanel
High class wordpress hosting (though Quite expensive)
30 days money back guarantee
So, i once again make conclusion of this Bluehost review very clear :-
Bluehost is not perfect, but it is a really good web host.
I have provided you sufficient details about Bluehost in this Bluehost review .
Now, you will have to take a look at your specific needs and budget to find out, if Bluehost can be the best web host for you or not.
If you have decided to buy Bluehost's hosting plans after reading this review, then use the below mentioned link to get benefit of latest available discounts offers.

PRICE                                                    :         7
RESOURCES & FEATURES            :         8
SPEED & UP-TIME                          :         7
SECURITY                                            :         8
CUSTOMER SUPPORT                    :         7
( Scores given above are out of a maximum possible score of 10 )
NOTE :-  I am an affiliate of some of the web hosting products mentioned on this blog. I will receive a small compensation, if you buy web hosting plans through the links provided on this page. Click here to read the full  Affiliate disclosure.