V/S
Bluehost and Dreamhost are among most popular web hosting companies in the world. People looking for a new host, often try to compare these two hosts and find the better one. For such people, i have prepared this honest and detailed Bluehost vs Dreamhost review.
Let me declare the result of this comparison in the very beginning  :-
Dreamhost is better than Bluehost in terms of speed, uptime, support quality, security system and overall web hosting quality.
On the other hand, Bluehost is cheaper and provides flexible plans, which make it a better option for beginners.
But, there are other web hosts which are better than both Dreamhost and Bluehost.
I have judged all the top web hosts on the basis of their speed, uptime record, support quality, security system, plans and pricing etc. I have reviewed and tested them for many months before writing their honest and detailed reviews.
Top 3 web hosts have been ranked in the following order :-

A2 HOSTING     –   FAST, RELIABLE & CHEAP   –   Read review
SITEGROUND    –   PRO SUPPORT & HIGHLY REPUTED   –   Read review
INMOTION    –   SOLID, SAFE & VERSATILE   –   Read review
Make sure that you take a look at above mentioned top 3 web hosts. All these web hosts provide shared, VPS and dedicated server hosting plans. All of them also provide top class wordpress hosting.
With these web hosts your website will remain in safe hands. I myself trust all the above mentioned hosts, whenever i have to choose a web host for one of my websites.
For example, ZENIWO.COM itself is hosted on Inmotion, you can check it here.
If even after knowing about top 3 hosts, you have interest in exploring Bluehost and Dreamhost, kindly continue reading. 
This review will move ahead in a smooth and systematic manner, moving from one part to other. You can read the full review or you can jump to some specific part of the review, depending on your need and convenience.
Following are the different parts of this Bluehost vs Dreamhost review in which different aspects of their service quality has been compared :-
Introduction of Bluehost and Dreamhost
Plans and Pricing
Speed and Up-time data
Support quality
Security system
Overall list of features
BLUEHOST VS DREAMHOST  :  INTRODUCTION

 
1 ) BLUEHOST 
Founded in :-  2003, by Matt Heaton and Danny Ashworth
Headquarters :-  Orem, Utah , U.S.A.
No. of websites hosted by it :-  More than 2 million
Hosting types provided :-  Shared, VPS , Dedicated server, Cloud and WordPress hosting
Famous for :-  Affordable hosting and Feature rich plans
2 ) DREAMHOST
Founded in :-  1996 by Dallas Bethune and 3 other college students
Headquarters :-   Los Angeles, California, U.S.A.
No. of websites hosted by it :-  More than 1.5 million
Hosting types provided :-  Shared, VPS , Dedicated server, Cloud and WordPress hosting
Famous for :-  High quality performance and top class support
BLUEHOST VS DREAMHOST  :  PLANS AND PRICING 
1 ) BLUEHOST

 
Pricing of Bluehost is highly competitive. Its plans can be considered to be affordable when compared with other top hosts.
It offers 3 shared hosting plans which provide sufficient options to small and medium sized website owners.
4 VPS and 3 Dedicated server plans provide nice options for upgrading the hosting plans, if needed. These plans are also quite affordable.
Specialized E-commerce and WordPress hosting service is highly beneficial for some people. Its wordpress hosting is highly rated and appreciated, though it is quite expensive.
2 ) DREAMHOST
It provides only 1 shared hosting plan. This plan costs around $10/month and is a bit expensive in comparison to other web hosts. I will not suggest absolute beginners or very small website owners to buy this plan.
Dreamhost provides 4 VPS plans, out of which first two are very cheap. Considering the high quality of Dreamhost's hosting, it is a big benefit.
A feature rich dedicated server plan is also available, so, expanding the website should not be a worry.
Dreamhost also provides wordpress hosting. It has been appreciated a lot for its quality, but it is a bit more expensive than others.
* WINNER *  :-   Bluehost  
Because Bluehost provides flexible plans, greater choices and cheap pricing.
BLUEHOST VS DREAMHOST  :  SPEED AND UP-TIME
A website always needs to be up and running so that visitors can access it, that's why we measure uptime record of a web host.
On the other hand, fast speed is very important for good user experience as well as high search engine rankings.
Let's find out how bluehost and dreamhost perform here…
1 ) BLUEHOST
Following is an image from uptime robot ( a tool to measure speed and uptime data of websites ) , it provides the server response time of a bluehost's testing website for a period for 24 hours and its uptime data since the time a person started monitoring the website.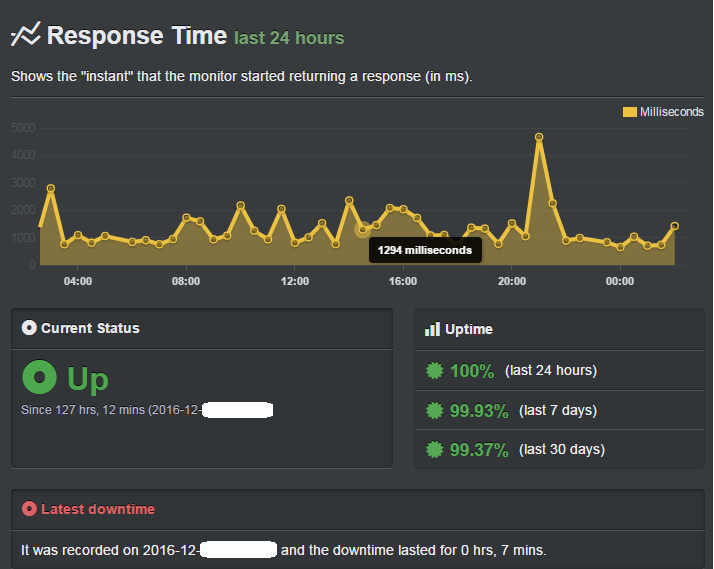 Average Server response time of Bluehost remains between 1000 ms and 1500 ms, which is really poor. Most of the web hosts perform a lot better and their speeds range from 500 ms to 800 ms. So, without any doubt bluehost is slower than other top web hosts.
Bluehost's uptime for last 3 months has been around 99.76 % which is below average. Most top hosts like A2 hosting, Siteground, Inmotion, Dreamhost etc. provide uptime of greater than 99.95%.
I have also read experiences of other web hosting reviewers whom i trust, and reviews of some real users of bluehost. There experience has been quite similar to the results of our testing.
2 ) DREAMHOST
Dreamhost is often said to be a better web host than Bluehost. Here you will find out the reason behind it.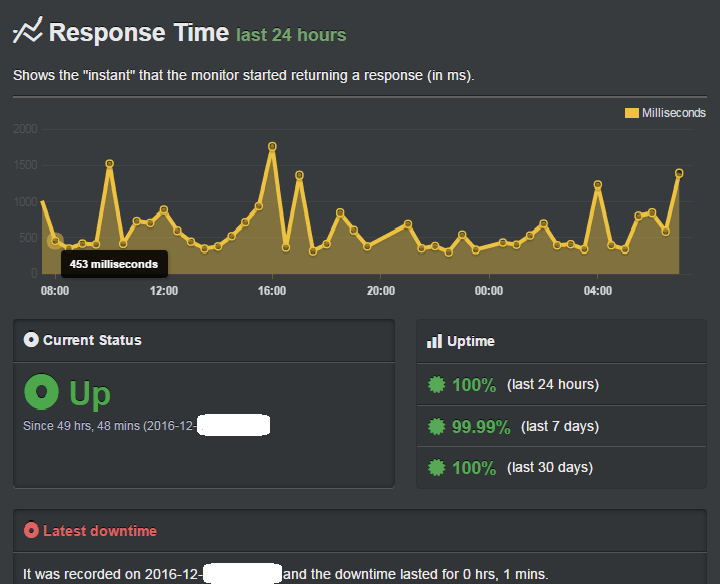 Average speed of Dreamhost's test website remains between 550 ms and 650 ms on most of the occasions. It is a lot better than Bluehost's speed and one of the best speed records among the popular web hosts.
During last 3 months, Dreamhost's site suffered the downtime of only 16 minutes on 2 different occasions. So, its uptime was more than 99.99%, which is phenomenal.  It is well above the benchmark of 99.90%, which is considered to be very good.
Dreamhost is very confident about its uptime. You will be paid one day of hosting cost, for every hour of downtime that your website will suffer.
* WINNER * :-  Dreamhost
A very easy and obvious decision
BLUEHOST VS DREAMHOST : SUPPORT QUALITY
There are times when even a smoothly running web host faces some trouble, in such situations it is support staff of the web host which rescue its customers.
Support is extremely important for everyone, a small site owner or a tech-master.
In case of problems like website hacking, some login error, minor technical errors, confusion with C-panel, and for countless other issues which will pop-out from nowhere, we need support system.
So, let's find out which host provides better support quality and facilities.
1 ) BLUEHOST
Bluehost provides 24/7 support through live chat, emails, tickets, and phone service.
It also provides a huge knowledge-base for common troubles or questions.
Its support staff is appreciated for having good technical knowledge and for being supportive.
But its support is not very fast and takes some time to respond.
The practice of handling multiple customers at one time is also odd and deserves some criticism.
2 ) DREAMHOST
Dreamhost provides 24/7 live chat, email and ticket support.
Like bluehost, it also has a good knowledge base and a support forum where dreamhost's customers can talk to each other.
It does not provides phone support to everyone, which is a negative point considering its costly plans.
Support quality of dreamhost is very high, responses are fast and support staff is highly skilled and supportive.
It provides the option of getting phone support to limited customers at an extra monthly charge.
 * WINNER * :-  Tie
Bluehost provides more options, but Dreamhost provides better quality.
BLUEHOST VS DREAMHOST : SECURITY SYSTEM
1 ) BLUEHOST
Bluehost is known for maintaining good level of security for all its customers.
There are tools like Spam Assassin, Spam Experts, and Spam Hammer to prevent spam.
They support CloudFlare, which helps prevent a website from DDoS attacks, such attacks send very high amount of traffic to a website to bring it down.
They also offer hot link protection (it prevents people from stealing your images or content) and IP address blacklists, which allow you to block people who are troubling you in any way.
Few optional and advanced features like Sitelock and SSL certificates are also available at an additional fees.
2 ) DREAMHOST
Dreamhost provides an automated malware scanning tool which discovers and fixes malware found on customers' websites.
High costs of dreamhost plans are justified by free SSL/TLS certificates and free domain privacy feature. Both of them are quite costly services and are rarely provided for free.
Dreamhost also provides http/2 support which is considered to be an advanced feature.
Latest hardware technology and continuous patching of any security loophole is a big plus point with dreamhost.
Other than above mentioned features, Dreamhost provides all regular security features needed to protect emails, login panels, website content etc.
 * WINNER *  :-  Dreamhost
Both the web hosts are very good at providing high quality security to the websites hosted on them.
But, Dreamhost proves to be better due to some advanced security features it provides.
BLUEHOST VS DREAMHOST : OVERALL FEATURES 
1 ) BLUEHOST
Bluehost limits no. of websites, disk space and email accounts in its smallest plan, but, in higher plans, all these things are unlimited. Unlimited bandwidth is provided in every plan along with few practical restrictions.
Most popular control panel of the industry C-panel is provided.
Cloudflare is available and it can be enabled instantly on any website for free without making any coding changes.
Automatic daily, weekly and monthly backups are available and they can be restored very easily.
Account isolation technology is used to ensure fair resource allocation to every website hosted on a server.
WordPress 1 click installer is available to download and install all important and popular software.
Bluehost supports most of the major e-commerce software.
30-days money back guarantee is provided to keep customers on a safe side.
2 ) DREAMHOST
Dreamhost provides unlimited websites, disk space, bandwidth and email accounts in its shared hosting plan.
It provides home-built and customized control panel, which is a bit complex but provides more facilities than typical C-panel.
It also provides cloudflare integration to speed up and secure the websites.
Free domain name, free domain privacy and free SSL certificates can be a golden benefit to many website owners.
1-click wordpress installer is available with all wordpress plans.
Solid state drive technology is used for better speed and overall performance of servers.
Dreamhost also provides e-commerce support and is PCI compliant.
Money back guarantee of 97 days is absolutely great and highest among all top web hosts.
 * WINNER * :- Dreamhost
Once again, both the hosts provide good list of features. But few freebies, unlimited resources and high money back guarantee period make Dreamhost a better choice.
Now, this Bluehost vs Dreamhost review is moving ahead towards a conclusion.
On the basis of step by step analysis done above, let me conclude this review in following lines :-
Bluehost is a decent web host providing all essential features and sufficient resources. But, its speed and uptime record is not very impressive and could be a lot better. It is still a good choice for new and small website owners.
Dreamhost is clearly better than Bluehost in overall hosting quality. Dreamhost is a bit expensive for beginners, but quality of its speed, uptime, support, security system, premium features etc. is excellent. So, if you are serious about your business than it is wiser to spend extra $2-3 per month for superior quality of dreamhost's web hosting service.
          * FINAL WINNER *  :-  DREAMHOST
I have declared the result of this Bluehost vs Dreamhost review on the basis of my common sense, testing data, deep analysis and observation of views of other experts and users.
Now its your time to take the final decision.
Take a look at your specific needs and choose the right web host for your website.
USE BELOW MENTIONED BUTTONS  to enjoy latest available discounts from the official websites of Bluehost and Dreamhost.
Click on the below mentioned Bluehost button and enjoy more than 50% discount on its shared hosting plans.
Click on the below mentioned Dreamhost button to enjoy guaranteed and rare $25 discount on its shared hosting plans.
Let me remind you once again that we have rated following web hosts as the top 3 web hosts on the basis of data driven analysis and thorough testing :-
A2 HOSTING

    –   FAST, RELIABLE & CHEAP   –   Read review

SITEGROUND

   –   PRO SUPPORT & HIGHLY REPUTED   –   Read review

INMOTION

   –   SOLID, SAFE & VERSATILE   –   Read review
Thank you for visiting Zeniwo.com, i wish you all the best for upcoming personal and professional journey of your life.
NOTE :-  I am an affiliate of some of the web hosting products mentioned on this blog. I will receive a small compensation, if you buy web hosting plans through the links provided on this page. Click here to read the full  Affiliate disclosure.